Daily Archives:
February 21, 2020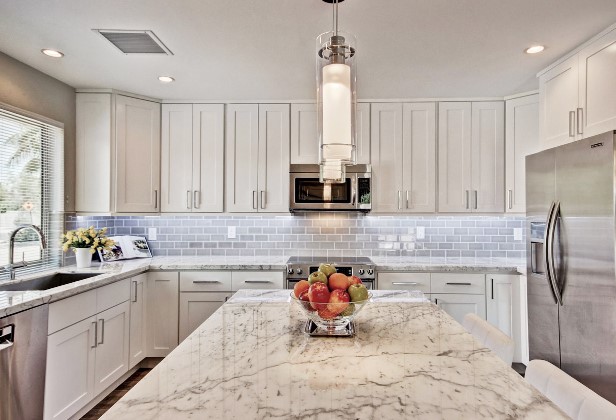 Once considered as bland and boring, white as a color has emerged to be the desired choice for homeowners looking to impart a timeless look to their interiors. When it comes to kitchen cabinets, choosing the right color goes a long way in affecting the surroundings. White undoubtedly is a classic choice and has ruled the roost of the design world for years. No matter what colors are trending, white has always been a predominant choice for kitchen cabinets and is often listed among the top three color choices across all seasons. If you are looking to invest in kitchen interiors, here's a look at five reasons to go for white cabinets.
Why Should You go for Modern White Kitchen Cabinets?
Fresh and Bright
White is one such color that represents the "Fresh" and "Bright" vibe. On a primary level, it's all about perceptions mostly, but there's a bit of science behind it as well. When judging color choices, light reflectance value is one such measurement that comes into play to determine how much light a color reflects. For a color that reflects the highest amount of light, higher is the LRV. White as a color score 100 percent LRV, compared to its reverse color black resting at zero percent.
Any modern white kitchen that receives a good amount of natural sunlight can choose to invest in white cabinets to harness the effect. White-colored shaker cabinets are nothing short of an enduring classic and a perfect fit for homeowners who aren't much fond of updating their kitchen from time to time.
Good Vibes
A kitchen is one such place where culinary experiments take place every day. White is one such color that readily gives out the good vibes. Hence, color therapists opine how white colored cabinets can instantly lighten up your mood and usher a feeling of calmness, purity, and happiness. Plus, as a color that reflects the highest amount of light, it creates an illusion of your kitchen being more spacious and spread out.
For anyone who doesn't love monochromatic finishes for their shaker cabinets in the kitchen, the cabinet trims and door can be used to create details along with layers of contrasting shades, which is a newfound interest in the architectural industry. Plus, when you put your kitchen items against white cabinets, it offers a picturesque setting as any color paired against white looks great! The accents, kitchen hardware, tiles, and just about everything else.
Highly Marketable
According to a report from Home Appliance Manufacturers Association, USA, white-colored appliances generally outsold other colors. The same rule applies to kitchen cabinets where white color tops the chart, thus making it highly marketable when one plans to sell out his property. The universal beauty of white appeals to onlookers readily, and unlike other colors, it can never visually put off any prospective buyer. So, if you have plans in store to sell out your house soon, go for white cabinets that would help create a neutral palette and boost your selling proposition.
A Sign of Health

Back in the 1920s, the popularity of white color could be traced back to the manufacturing industry, where it was a symbol of health and sanitation, especially catering to a population that had witnessed an epidemic. Hence, the color white was readily adopted as a potent symbol of cleanliness for one and all households. Fast forward to modern times, the vitality of white as a color has only managed to grow. Any modern white kitchen today bespeaks a healthy and dirt-free image, which is integral to a place where one cooks food for their family.
Creative and Versatile

White cabinets are outright sexy and uniquely versatile to function towards creating a bold and versatile statement for your kitchen. An excellent way to achieve parity is to choose a kitchen island that is of different texture and color. In case you are space crunched, consider a kitchen backsplash and put white cabinets acting as a contrasting backdrop to make way for other non-white elements. Cabinets that come fitted with glass doors are also a good way to act as a focal point of attention in your kitchen. With white cabinets, you can incorporate just about any shape and structure, that will work together to show off your design. Even if you choose to change the decor of your kitchen at a later stage, white cabinets would still be the right fit anyhow.
Conclusion
There is no denying the fact that white, as a color, is immensely powerful and highly invigorating. When you buy white kitchen cabinets, you readily usher in a fresh and airy appearance to your kitchen, like nothing else. Darker hues sure do work great, but white cabinets are hands down a timeless and uniquely enduring piece of furniture to cherish ever after!