Fun and Easy DIY Projects For Your Home This Autumn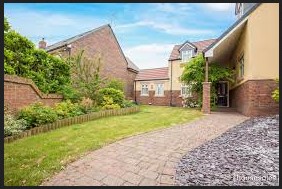 Looking outside at the golden trees, it's clear that autumn has not only arrived but is in full swing too. Now that the weather is chillier, you might catch yourself spending more time snuggled up at home with a book and a hot beverage rather than being outside. That is completely normal, but if you are an outdoors person, you may find the time spent indoors to be a bit boring sometimes. If that is the case, you are in need of a bit of fun and what is more exciting than a DIY project on a gloomy, cold autumn day?
Autumn is also well known to be the spooky season, making it the perfect time to craft some home decorations for your home just in time for Halloween. Whether you are into scary décor or you are after a simple and cozy aesthetic, there are plenty of projects you can do yourself while it is raining outside. Here at House Sales Direct, we have compiled a list of fun and easy DIY projects which you can begin during this spooky season to kill the time and at the same time create some interesting home décor for your house.
Leaves, Leaves, Leaves 
One of the things most associated with the autumn season are definitely leaves. It's a clear sign which reminds us that summer is gone, and the seasons have changed. Once the leaves turn golden you should know it's time to bring out sweaters and boots because the weather is about to get chilly. Autumn walks in the park are a great activity for the warmer and nicer days and that is where you would get the opportunity to gather some leaves and get creative at home. Once you have a good selection of interesting ones, you can begin creating anything with them. Some examples are preserving them with a leaf press and creating beautiful and colourful artwork which can then be framed. Leaf wreaths can also be an amazing piece of decoration for your home during autumn where you can add not only leaves but some branches, pumpkins and dried fruits. Drying out the leaves and using them in all sorts of decorations around the house is going to bring those autumn vibes inside so that even when you don't want to go outside in the cold, you can still enjoy the best parts of the season.
Homemade Candles
There are many heartwarming scents which you can incorporate into your home, especially during autumn times, such as cinnamon, star anise, orange and pumpkin. You can easily add these smells to a candle which you could create yourself. Candles are strongly associated with the colder weather when people start spending more time at home and start paying more attention to creating a cozy atmosphere so what's better than adding a nicely smelling candle? All you'll need is a used jar, some essential oils, ground spices, a wick and some wax. Mixing up the wax with the essential oils and spices will already give your whole house an incredible aroma which will last for a long time.
Pumpkin Decorations
Surely there are plenty of pumpkin-themed décor in the shops already but how cool would it be if you created something unique and on your own? A great and very common activity for killing time at home is pumpkin carving, however, there are many additional things you could do with the pumpkin. For instance, you could create clay bowls in its shape and colour which you could potentially use to store candy afterwards. What's more, you could upgrade some of your already bought and artificial pumpkin decorations by painting over them in a colour that suits your home aesthetic or making a candle in any pumpkin-shaped glass jars you might have laying around. Let your mind get creative and you will end up making much more interesting pieces than you'd expect.
Crochets
Since the pandemic, many of us have embarked on new hobbies and a popular one seems to be making crochets. It's an engaging activity which can keep you occupied all season. You could easily learn how to crochet and start making autumn themed items such as little knitted pumpkins or clothing. Since you are decorating your home, you might want to create a garland rather than clothing pieces so that you can display your work proudly at home. Whatever you choose to do, this activity will soothe your mind and keep your brain engaged and healthy.
The good thing about DIY projects is that a single one can take you all day to do, giving you a lot of opportunities to create multiple things every time you have a day off for yourself. These projects will keep you busy during the chilly autumn season, especially when it's a stay-at-home kind of day.
This article was written by an online estate agent House Sales Direct. If you wish to sell house fast and for free, then head over to the House Sales Direct website for more property related information and enquiries.